DEMOCRAT AND CHRONICLE, ROCHESTER, N.Y., MONDAY, OCTOBER 5, 1998

Subscribing to growth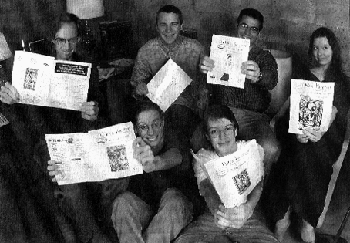 ANNETTE LEIN staff photographer
Read all about it The editorial staff of the independent satire publication, 'Hell's Kitchen,' in their RIT apartment basement office. From left, in the back row, Brian Barrett, Giles Francis Hall, Jeremiah Parry-Hill and Kelly Gunter. In the front row, from left, Adam Fletcher and Matthew J. Weaver.
Student-run satire magazine is looking for stability by increasing advertising, circulation.
By Staff Writer
---
Christine Van Dusen
A small volunteer crew meets every week in a dark, makeshift basement office to stir things up in Hell's Kitchen, a student-run but not college-sponsored publication that features satirical stories and commentary.
The content is off-beat to say the least--from musings on a sea monkey colony gone amok to pointed criticism of Apple's alliance with Microsoft. The magazine showcases the strange and sometimes absurd literary meanderings of writers from Monroe Community College, the Rochester Institute of Technology and the University of Rochester.
"The logic being that a coalition of groups that work together under a single name will be able to get more done than individual groups working separately, but with similar goals," said Sean Hammond, Hell's Kitchen secretary.
The weekly magazine started out in 1995 with three employees, a single page and a distribution of 60 issues a week. Now, five people collect submissions for a 28-page publication and distribute about 1,000 issues a week.
Hell's Kitchen is free, and its staff is volunteer. The only flow of capital comes from advertisers, and the money is used to cover the weekly production cost of $200.
The magazine has about 900 readers, said Matthew J. Weaver, a 21-year-old RIT senior from Detroit who is an editor.
"Now we're looking to increase our circulation," he said. "It's the only thing that's preventing us from getting lots of real serious advertising in the Rochester area.
"But it's a Catch-22. Without advertising dollars, Hell's Kitchen can't afford to increase production and circulation."
So growth is now at a standstill.
To get out of that rut, Weaver said, the magazine is working to improve its credibility.
Hell's Kitchen joined the Independant Press Association and will be featured as the group's publication of the month for October. And within the last year, the magazine was granted 501(c)(3) non-profit status by the Internal Revenue Service.
The magazine also contributes the University Wire, which distributed a Hell's Kitchen item to USA Today in February.
"Despite all of this, Hell's Kitchen has found it difficult to get people to take it seriously," Hammond said.
The magazine staff isn't trying to attract every advertiser out there. Their cold-calling is focused on businesses that seem to share similar ideals. Alternative clothing shops, tatoo artists and small restaurants have populated the advertising roster. The weekly rate for a full-page ad is $100, Weaver said.
Hell's Kitchen needs to prove to advertisers that readers will buy their goods and services and that their circulation numbers are realistic, said John Anner, executive director of the Independent Press Association.
The staff could include a reader survey in an upcoming issue or hold an event where readers can fill out the form, Anner said.
Once Hell's Kitchen sees more growth locally, Weaver said, the staff wants to go national and start printing issues to circulate in New Jersey and Maryland.
"We're definitely not trying to be loved by everyone, but we firmly believe our readership is out there," he said. "We don't believe in lines. Whenever we find one, we try to cross it."
---
About us - Member Groups - Join the Kitchen
FAQ- Kitchen in the Media - Comments